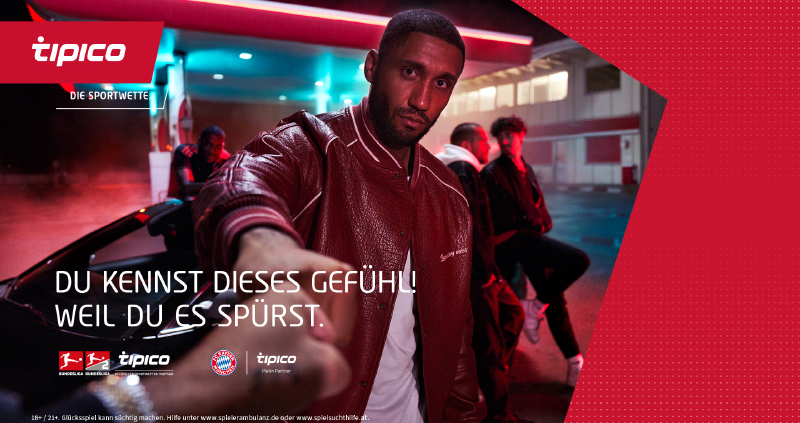 Weil du es spürst: Tipico and deepblue show even more passion with new campaign
Tipico – Germany's sports betting provider number 1 – is providing an intense push of adrenaline and passion with a new campaign to mark the start of the World Cup. Together with Hamburg-based creative agency deepblue networks, the sports betting original is developing a visually stunning TV campaign full of strong emotions. The slogan 'Weil du es spürst' (Because you feel it) pushes Germany's leading sports betting provider further in the direction of a lifestyle brand for its target group.
Just in time for the Football World Cup, Tipico is entering the betting season on all sports-relevant channels with a new campaign. In powerful visual spots, Germany's leading betting provider delivers a distinctive new message to passionate fans of the sports world: 'Weil du es spürst.'
After Tipico celebrated its target group in the previous two years with the claim 'Mach dich zum Original' (Make yourself an original), the focus is now on the unique feeling of every bet. 'Through Tipico, fans feel the most intense excitement in every single game. That's what we're representing in our new campaign,' says Kajetan Strini-Brown, Head of Acquisition at Tipico. "Weil du es spürst' hits the spot of everyone who wants to be thrilled by the emotions and passion on match days' says Oliver Reichwald, Creative Director at deepblue networks.
FC Bayern München is also involved in this year's new campaign. Additionally, the Bundesliga championship trophy and the logos of the Bundesliga and 2. Bundesliga, which Tipico uses as an official partner, are also visible.
The third campaign, which Tipico developed together with the Hamburg-based creative agency deepblue networks, was again realized with director James F. Coton and the production company 27km. Pascale Kerouche was behind the camera for the photos of the current campaign.
After the premiere of the TV spots at the start of the World Cup, placements will follow on all sports-relevant channels and surroundings. These will include everything from a 15-second image spot to a 7-second presenter in more than 120 different formats for TV and web. In addition to the image spot, Tipico will also show short product clips in which, among other things, a new customer bonus and other product features will be communicated.
Credits
Agency: deepblue networks
Chief Creative Officer: Oliver Drost
Consulting: Josephine Schütt
Creative Director: Oliver Reichwald
Copy/Concept: Andreas Hatrath
Art Direction: Franziska Böttcher
FFF: Katja Czok
Director: James F. Coton
Film production: 27km
Sound: Hastings Audio Network
Pictures: Pascal Kerouche
https://www.tipico-group.com/wp-content/uploads/2022/11/Campaign-2023_800x450.jpg
450
800
Matthias Folkmann
https://www.tipico-group.com/wp-content/uploads/2019/03/Tipico_logo_white-01.svg
Matthias Folkmann
2022-11-14 13:23:34
2022-11-14 13:26:12
Weil du es spürst: Tipico and deepblue show even more passion with new campaign