Betting provider auctions off unique sports memorabilia for good causes
These articles can't be purchased anywhere: Tipico auctions off numerous exclusive, unique sports memorabilia and donates the proceeds to non-profit organisations and foundations. As of now, kits, scarves, balls and other items come under the hammer on the website Tipico Sportauktion. The items will come signed by players and functionaires of the Tipico partner clubs or by prominent guests in our VIP-boxes in the stadiums in Munich, Hamburg and Leipzig. The proceeds from the auctions will go to various non-profit projects in the sports environment, such as the HSV foundation "Der Hamburger Weg" or "Wings for Life".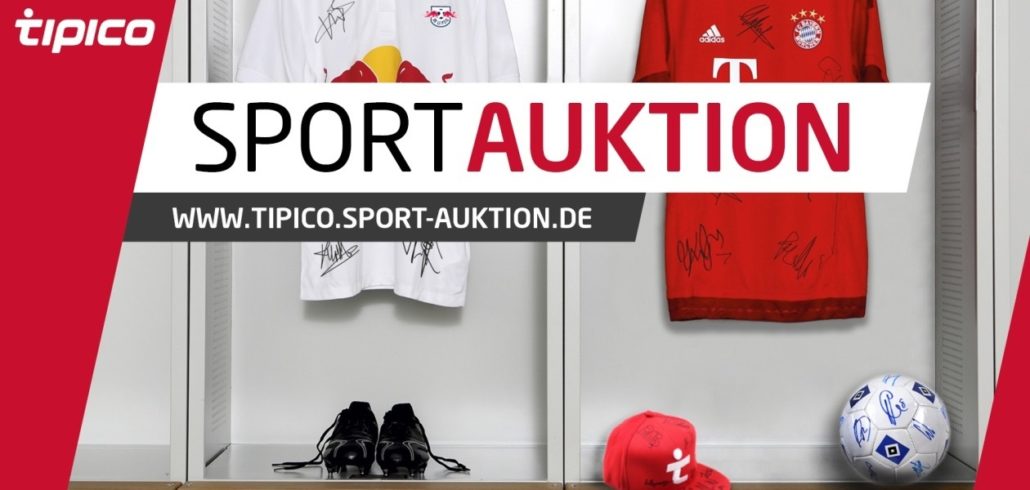 Original jerseys of the record champion FC Bayern München signed by the former "Capitano" Michael Ballack, ski jumping legend Sven Hannawald and other stars, balls signed by the team of the Hamburger SV or scarves with the signatures of the RB Leipzig shooting stars – Tipico offers exclusively unique pieces. In addition, several Oliver Kahn balls signed by the titan himself will be up for auction. Fans of the Austrian Tipico Bundesliga will also be left out. One signed jersey of each of the ten first-class clubs are up for grabs.
The principle of the Tipico Sportauktion in cooperation with sport-auktion.de is simple: the auctions run two weeks each, the highest bidder wins. The starting price for each item is € 20.04 – based on the founding year of Germany's leading sports betting provider.
Tipico donates the proceeds accordingly to locally-based organisations. If a fan wins a signed football of the Hamburger SV, he supports the foundation "Der Hamburger Weg". The revenues from articles by RB Leipzig flow to the Austrian Foundation for Spinal Cord Injury Research "Wings for Life". FC Bayernhilfe e.V. as well as the integration projects of the Saxon Football Association (SFV) are also supported. In 2017, the SFV will become a new tipico partner, which uses donations to promote e.g. blind, deaf and powerchair football.
The latest auctions can be found under www.tipico.sport-auktion.de or on the official Tipico Facebook-Page.