Consumer decisions are based on trust. Responsibly dealing with all aspects concerning our customers' security forms the foundation of their trust and therefore significantly contributes to our success. To ensure that we continue to preserve this trust in the future, Tipico has developed a comprehensive player protection concept which is regularly reviewed and updated. As a result, our customers can focus entirely on the excitement of the game and their enjoyment of the sport.
Data protection and data security
Secure and state-of-the-art encryption technologies are used to transmit data between the customer and Tipico. Tipico has an SSL certificate, an encryption protocol for secure data transmission. Additionally, we provide technical protection for the sensitive data of our customers.
With the Information Security Management System (ISMS), which is certified by TÜV Rheinland, we ensure that the technical security of our computer systems is reviewed and adapted as needed on an annual basis. This shows that we treat the sensitive data of our customers responsibly and offer comprehensive protection in accordance with the international ISO 27001 standard.
Furthermore, we guarantee that we solely use the data we gather for purposes of communication and provision of our services as well as the associated legal obligations. We strictly comply with the European General Data Protection Regulation (GDPR) and only store personal data as long as is required or legally stipulated.
Secure incoming and outgoing payments
Tipico also prioritises the responsible handling of our customers' payments. Bets are always kept separately, in an account which is separate from the company and authorised by the licencing authority Malta Gaming Authority (MGA). This ensures that our customers' payments are always secure. Similarly, the process of outgoing payments is precisely monitored to prevent fraud and guarantee that our customers receive their winnings quickly and without hassle.
Licencing and external examinations
In addition, we ensure our customers' security by conducting an external audit and licencing of our company as well as carrying out comprehensive measures to guarantee integrity. Due to its gambling licence, Tipico is subject to external monitoring arrangements. Furthermore, technical components of our services, such as the random number generator (RNG), are tested and certified independently.
Feedback and customer service
We can only improve if we are open to any potential criticism from our customers. Should a customer have a dissatisfying experience with our service, we offer a transparent complaint process that can lead to a mediation conducted by a neutral arbitration board if necessary.
Youth protection
Tipico prohibits minors from participating in any gambling activities. We take our responsibility in this regard very seriously and carry out identity and age checks online as well as at betting offices.
The youth protection policy of course also applies to Tipico's marketing communication. With the Tipico Advertising Policy we commited to fair and responsible commercial communication with our customers. Tipico thereby applies the highest standards to ensure the protection of consumers, minors, and third parties, as well as the integrity of sports.
Player protection
We view security as a central component of the quality of our services. Tipico therefore takes its responsibility to protect vulnerable individuals and, as far as possible, prevent betting-related problems very seriously. Security and player protection are part of our product promise. That is why we have established these guidelines in a binding player protection concept and have outlined these on a player protection page for customers.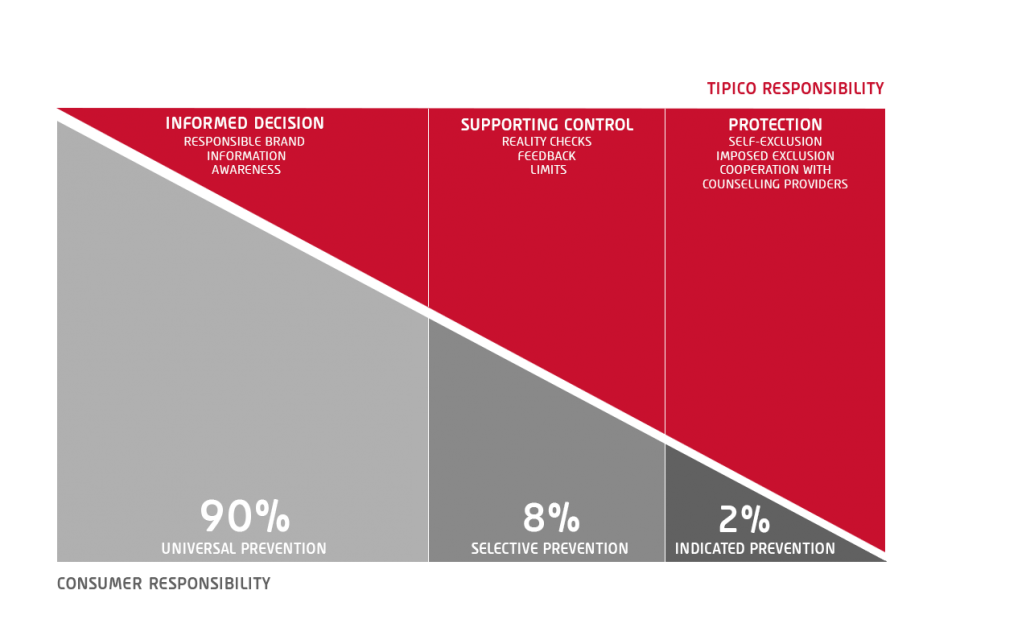 Our player protection measures conform to the respective protection requirements of the consumers. To help customers make self-determined, informed betting decisions, Tipico provides comprehensive information on relevant topics such as game information, probability of winning, and risk awareness on the company's own "Responsible Gaming" platform www.risk-in-safe-hands.com. Additionally, thanks to the transparent account overview, our customers can view all relevant information on their bets as well as incoming and outgoing payments at any time.
Voluntary limits offer the possibility of actively controlling betting behaviour. These limits allow customers to set boundaries for their personal betting behaviour and ensure that they comply with them. Since individual betting behaviour varies from person to person, Tipico offers a wide range of options for customers to design their customised limits. These include payment limits, loss limits, time limits, limits for maximum betting amounts, as well as various limits for the gaming range.
Aside from setting limits, temporary or permanent self-bans or bans imposed by others offer an option for protection. As far as legally possible, our bans are matched with national ban databases (e.g., OASIS).
Tipico's player protection service is rounded off by support for questions and concerns regarding responsible betting. Our customer service, the Responsible Gaming Team, as well as external partners and advisory centres are available to help. These include the TU Dresden's "Spielerambulanz", "Spielsuchthilfe", the online advisory service Gambling Therapy, which offers consultations in many different languages, and the association Verein Glücksfall e. V.
Tipico is working together with leading German research institutions, the Chair of Addition Research at the TU Dresden, and the University of Lucerne, with the goal of continually improving our player protection.